Chicken and kale casserole is an easy and hearty casserole. This is a great casserole to feed your family a weeknight dinner.
Hey guys for the next couple of weeks I will have some of my favorite food bloggers guest posting for me while I spend time with my family. You can read more about it here.
Today I have Rachel from Rachel Cook's! I love reading her daily updates on her blog. She had her second child right after I had Olivia so it's nice to see what her little one is up too. Her family is absolutely precious! I love the simplicity in her recipes and they are something that the whole family will enjoy! Some of my favorites are the sweet potato chips that are made in a microwave and the homemade taco seasoning mix. I hope you enjoy this recipe that Rachel has shared with you today!

ENJOY ~ Meagan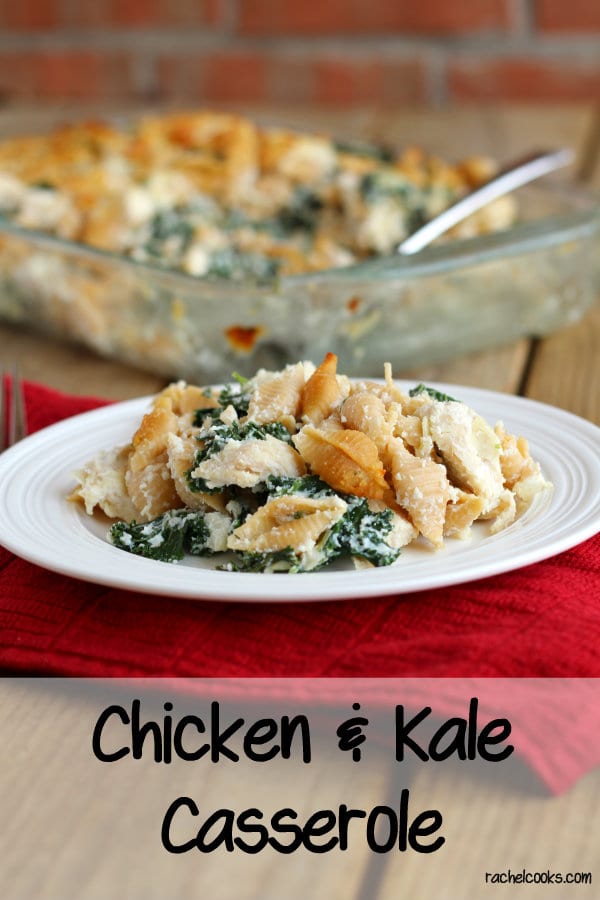 Hi A Zesty Bite readers! When I heard about Meagan's mom, I wanted to help in the only way I knew how–by providing some content for her blog so she can spend this precious time with her mom and the rest of their family. I love that Meagan grew up cooking with her mom and wants to keep the blog going during this time because her mom loves reading her blog. I also love to cook with my mom and some of my best memories with her were formed around a cutting board and a hot stove, so I know where Meagan is coming from in that regard. If you don't know me, I'm Rachel of Rachel Cooks. I'm a stay-at-home mom of two (one spirited 2.5-year-old girl and one charming 3 month old boy), a food blogger (obviously), and a doctor of physical therapy. The last job is mostly confined to weekends right now while I focus my time and energy on raising the two crazy kids. My website focuses on easy, accessible recipes that the whole family with love. You'll find healthy recipes…and some that aren't quite as healthy. I believe in the mantra "everything in moderation," and I believe in balance.
In other words, you gotta have a little CHEESE with your kale. Can I get an "Amen?"
This chicken and kale casserole fulfills that requirement. Plenty of cheese, plenty of pasta, but plenty of kale and lean protein too. My husband loved this dish (and he's not a huge cheese fan), and my daughter ate it too.
Okay…she didn't eat the kale–just the pasta and chicken. But she's two. And she dips jicama sticks in hummus so I'm not worried. We'll get there.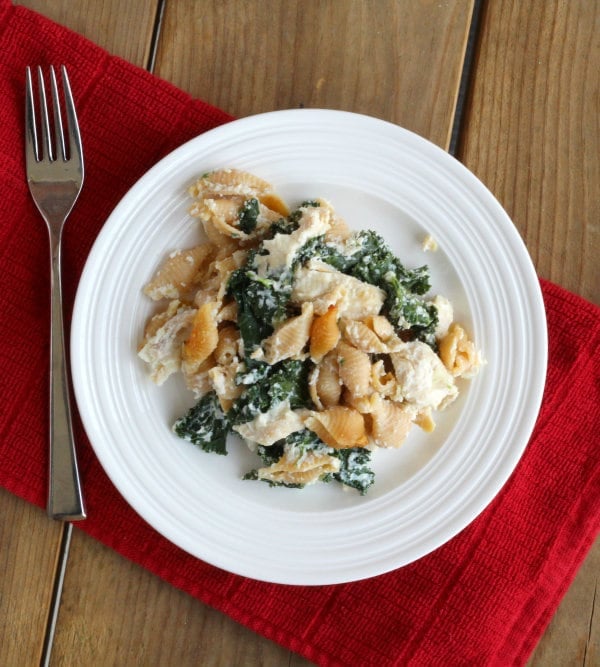 This makes a gigantic batch so feel free to scale back if you're not a fan of leftovers. I for one am definitely on team leftovers. I love to cook, but a night off? Always welcomed. Gives me more time to focus on the non-essentials like cupcakes and cookies. Or perhaps dinner is a non-essential and cupcakes are essential? Probably depends on what kind of day you're having.
Also, I typed up this recipe some time back. At the bottom, I typed this: "Note: You may prepare ahead of time and store in fridge until ready to bake. This would be a great meal to prepare for another family (illness, baby, etc.), because everything is cooked, and all they need to do is warm it through." Umm…kinda crazy, right? Someone that lives close to Meagan—do me a favor and make this for her family.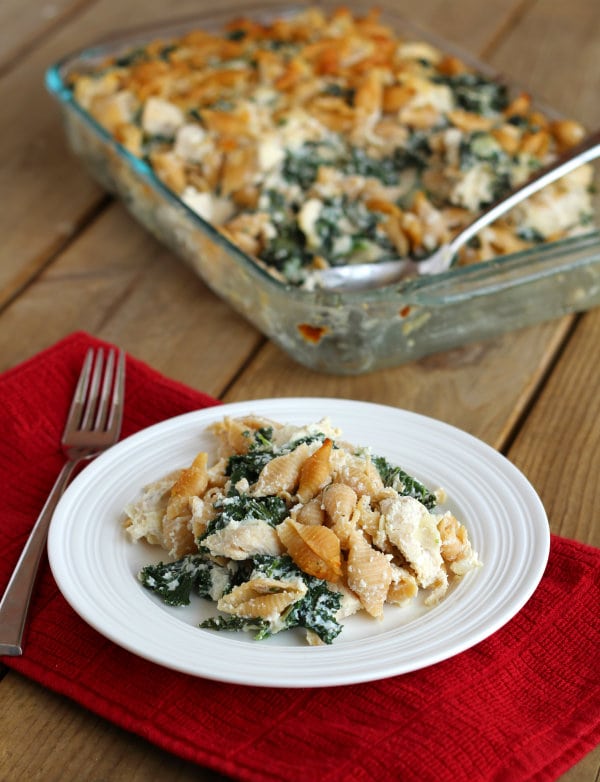 Ingredients
salt and pepper
one 13.25 ounce box of whole grain pasta shells
1 tablespoon unsalted butter
1 tablespoon extra virgin olive oil
1 large yellow onion, diced small
1 garlic clove, minced
1.5-2 bunches of kale, tough stems and ribs removed, torn or chopped into bite-sized pieces
3-4 cups of cooked, chopped or shredded chicken (I used a 1 ½ pound package of boneless skinless breasts)
30 ounces part-skim ricotta cheese
1 cup shredded mozzarella cheese
¾ cup grated Parmesan cheese
1 tablespoon lemon zest
½ cup loosely packed parsley, finely chopped
Instructions
Preheat oven to 350 degrees F.
Cook pasta according to package directions. Drain and return to pot, or dump into a very large bowl.
In a large skillet, melt butter and olive oil over medium heat. Add onions and garlic and cook until onion is softened, stirring frequently (2-3 minutes). Add kale, cover and cook for about five minutes or until kale is tender.
Transfer to pot or bowl with pasta.
Add chicken, cheeses, lemon zest, and parsley. Stir until ricotta and all other ingredients are evenly distributed.
Spread into a 9×13 pan, and bake for 30 minutes or until heated through and golden brown.
Did you make this recipe?
Please leave a comment on the blog or share a photo on Instagram
Verdict:
This was great! Filling, flavorful and delicious. The lemon zest gave it the perfect touch of brightness that it needed.
Husband's take:
Loved it!
Changes I would make:
None.
Difficulty:
Pretty easy!