It is finally the weekend! We had originally planned on going to visit my parents this weekend but our little one woke up sick yesterday morning. Nothing like a teething, coughing, runny nose 5 month old. Luckily for us she is pretty happy most of the time.
Today I have a guest post from Katie at Katie's Cucina. I started following her food blog a couple month's back and instantly fell in love with her recipes. Katie and her husband also have a DIY blog called Sew Woodsy.
In honor of Cinco de Mayo she is sharing this fabulous recipe with you today!
Take it away Katie….


Hi I'm Katie from Katie's Cucina. I am a Marketing professional during the day and home cook at night! I have no classical culinary training. Everything I've learned has been from my mom, watching cooking shows, and good old trial and error. Katie's Cucina is a place where I share my love for food – developing and cooking mouthwatering recipes weekly, baking indulgent desserts, and sharing foodie travels from coast to coast.
Since we are gearing up for Cinco de Mayo I'd love to share a few of my favorite Mexican recipes I like to make on a regular basis are: Grilled hopped Chicken Tacos, Cherry Tomato, Corn and Black Bean Salad, and Spicy Baked Corn Chips. These three recipes plus the recipe I'm about to share today will make a complete Mexican Fiesta dinner, a success!
Because I'm not busy enough (I kid), I also host a weekly Google Hangout with my friend Christine from Cook The Story. Each week we talk about a different topic. So if you're a food blogger (or culinary professional) and want to join our weekly chat feel free to reach out to me.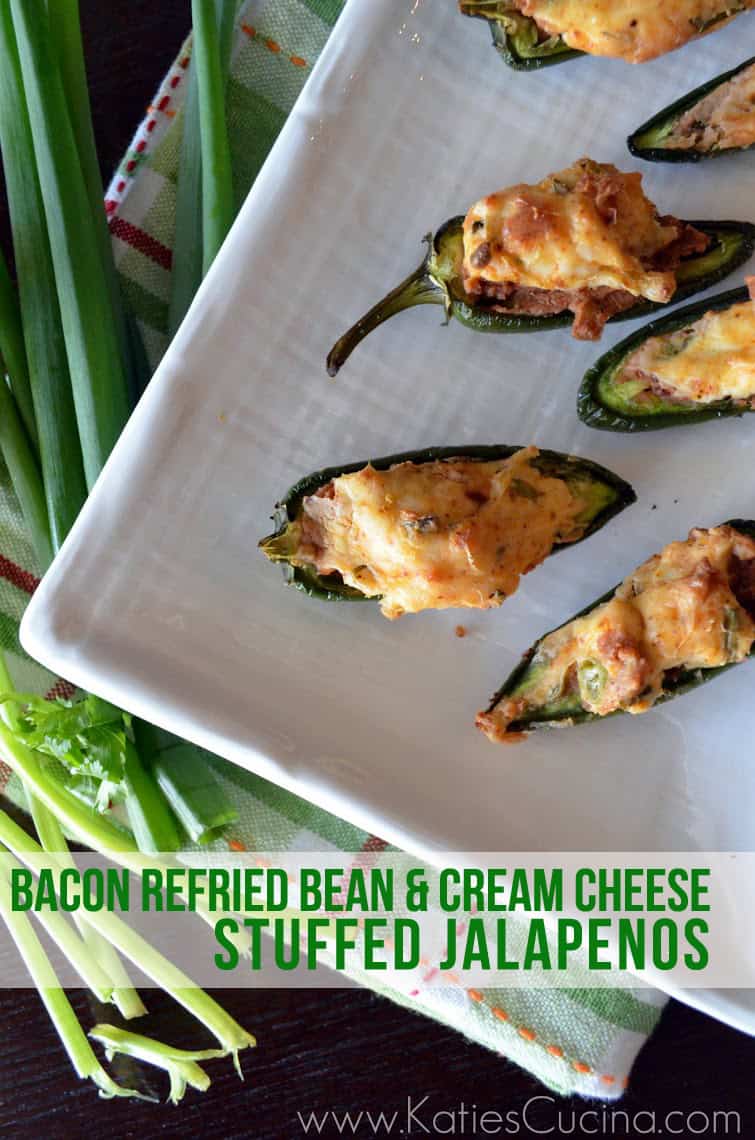 If you read Katie's Cucina you would know that earlier this week I posted the most epic Bacon Refried Beans one has ever indulged in. Creamy pinto beans smashed and infused with bacon fat and then to top it off crumbled bacon, gobs of cheese, and freshly sliced green onions. Well what do you do when you have just a little bit of refried beans leftover? Why, you split open a dozen jalapeno peppers and stuff them full of cream cheese and bacon refried beans.
Not only is this a simple appetizer to make, but a great way to use up leftovers! Since your removing the seeds from the jalapenos you'll be surprised that they aren't too spicy. They have just the right amount of cook. Plus the creaminess from the bacon refried beans and cream cheese tends to balance out the spicy jalapeno. The cream cheese topping bakes up nicely and I've found that baking these on a wire cooling rack on top of sheet yields the best baking results. The outer skin of the jalapeno will be crisp and baked evenly.
In my opinion this is a perfect appetizer to make this Cinco de Mayo!
Ingredients
12 Jalapenos
1/4 cup cream cheese, softened
1/8 tsp cumin
1/8 tsp chili powder
1 tbsp cilantro, minced
1 tbsp green onions, sliced
Instructions
Preheat oven to 400 degrees Fahrenheit.
Rinse and cut jalapeno peppers in half and remove seeds. Set to the side.
Mix the cream cheese with cumin and chili powder along with cilantro and green onions.
Spread a thin layer of bacon refried beans in each of the jalapeno peppers followed by a layer of cream cheese.
Bake on a cookie rack lined baking sheet for 20 minutes. Serve immediately and enjoy!
Did you make this recipe?
Please leave a comment on the blog or share a photo on Instagram

 
 Thank you again Meagan for having me today!
You can find me at Katie's Cucina or follow me on Facebook | Twitter | Pinterest | YouTube